I must confess that for most of my adult life albums have never really been my thing. Not that I had any choice. Back in the day, whether it was on vinyl, cassette or CD, albums were the only way to hear the songs I'd read about in the music press or heard on late night radio. Fortunately, the advent of MP3 culture, iTunes and file sharing sites like Soulseek in the early noughties put paid to all that. Like most folk, I stopped buying albums altogether, much preferring to cherry pick the good stuff as downloads, usually for free. Album sales dropped accordingly before the arrival of Spotify and streaming services in the twenty tens made the concept of the album as a cultural and artistic statement irrelevant. And yet, music critics, old school music fans and the music industry alike continue to regard it as the benchmark of an artist's worth. That got me thinking about my own relationship with the long playing format, and what a list of the ten most significant albums to influence my life might look like.
I was reminded of something a friend told me about a theory claiming that we only ever really love ten albums, and we will have heard and loved them all before the age of twenty. At the time I disagreed as I am wont to do, but even as I protested I began to question myself and the more I thought about it, the more it began to ring true. After all, if there was one period in my life when I truly loved albums and listened to them obsessively, it was from October 1971 until December 1979, essentially a couple of months before my twelfth birthday until a few weeks before my twentieth. That eight year span was the only time music literally dominated my every waking moment without anything else (work, money, relationships etc) getting in the way, the only time it was possible for an artist to take me on a journey into their world, impress themselves on my consciousness and adjust the trajectory of my life.
Reflecting on the hundreds of albums I listened to during the seventies, I found it surprisingly easy to reduce them down to thirteen that really meant something but not to ten as I originally intended. With so little to choose between them in terms of importance, that proved one task too many. This Baker's Dozen will just have to do. So here they are, the albums that shaped my life in the order I heard them. I'm just relieved to know that when I listen to them now, they're all just as exciting and incredible as they were all those years ago.
T.REX / ELECTRIC WARRIOR (September 1971)
KEY TRACKS: 'Mambo Sun', 'Cosmic Dancer', 'Jeepster', 'The Motivator', 'Life's A Gas'
I started out in this world of pop alone in my bedroom with the curtains closed and the joss sticks burning, miming to one of those budget Hot Hits LP's with their dodgy cover versions of recent chart hits. It was all a part of the make believe life I had created in my head to avoid the sheer drabness of my reality as a grammar school kid in smalltown England. Whereas once I had dreamt of being a superstar footballer, now I was a pre-teen pop star of untold musical skill and talent in abundance. In truth, even with two years of piano lessons behind me, I struggled to play a tune. It was 1971 and I was eleven years old.
With my interest in pop music increasing exponentially week by week, I was keen to hear as many records as I could lay my hands on. In the autumn of 1971, suckered in by its stark black and gold sleeve, and urged to do so by the teenage girl from two doors down, I borrowed her copy of Electric Warrior. A major step up from the standard, Holiday Camp singalong's I'd been miming to, Marc Bolan's glam masterpiece was the first 'proper' album I ever listened to.
Featuring 'Get It On', the number one hit single that only two months earlier had changed the way I thought about pop, the album cast a spell that is as enchanting now as it was then. From the slinky thump of 'Mambo Sun' and 'The Motivator' to the tough and funky 'Jeepster', from the Bolan origin story 'Cosmic Dancer' to the poignant 'Life's A Gas', Electric Warrior introduced me to the wonder and magic of the album. And what magic it was. Better records would follow, but none of them would affect me in quite the same way. I will always be grateful to Marc Bolan for that.
DAVID BOWIE / ZIGGY STARDUST AND THE SPIDERS FROM MARS (June 1972)
KEY TRACKS: 'Five Years', 'Starman', 'Lady Stardust', 'Ziggy Stardust', 'Rock'n'Roll Suicide'
There's a part of me that didn't want to include Bowie here, largely because I'm sick of talking about him and the incalculable influence his music had on my teenage years. After all, there's no getting away from the fact that Hunky Dory (the one I've played the most), Aladdin Sane (the first Bowie album I bought), Diamond Dogs, Station To Station, Low and Heroes deserve to be here just as much. But in the end I decided on his most acclaimed record, because that's where it all started.
Of course, many, many things have been written about The Rise and Fall of Ziggy Stardust and the Spiders From Mars, most of which are true. Without question one of the great man's finest works, it's hard not to overstate the albums musical and cultural impact on my generation in particular. The first thing you could call art I consumed in its entirety, it redefined how a musician could approach performance and creative representation by challenging the staid, Victorian morals of a nation and by introducing a new level of artistic freedom, glitzy gender-bending fashion and a sense of sexuality.
As for my relationship with it? I can clearly remember being in my bedroom, placing the needle carefully onto the groove of side one, track one and listening to 'Five Years' for the first time, its theme of end-is-nigh hopelessness truly scary to a twelve year old kid seriously terrified by the concept of mutually assured destruction. Elsewhere, while 'Starman' and 'Lady Stardust' focused more on introspection and commentary, 'Moonage Daydream', the title song and 'Suffragette City' sent chills running down my spine. Finally there was 'Rock & Roll Suicide' advancing from sparsely strummed, acoustic ballad to lavishly orchestrated farewell in a little under three minutes. A revolutionary record in 1972, The Rise and Fall of Ziggy Stardust and the Spiders From Mars is not only one of the most significant albums of my teenage, it's also one of the most instantly likeable.
ROXY MUSIC / FOR YOUR PLEASURE (March 1973)
KEY TRACKS: 'Beauty Queen', 'Do The Strand', 'Editions Of You', 'The Bogus Man', 'In Every Dream Home A Heartache'
The first 'proper' album I bought with my own money was For Your Pleasure, which came a full nine months after Bowie had blown my tiny mind. On a memorable wet Saturday morning upstairs in the record section of Boots in Reading town centre, I faced a landmark moment I literally couldn't afford to get wrong. Not that there were too many other contenders for my hard earned, paper round pay. Bolan's Tanx, Alice Copper's Billion Dollar Babies and The Stooges Raw Power were the most obvious candidates vying for my attention, all of which I would either beg, borrow or steal at a later date, but on the strength of their non-album hit 'Pyjamarama', after some deliberation, I plumped for Roxy Music.
Similar to Ziggy Stardust in concept yet totally different, For Your Pleasure was another record that looked and sounded like it came from somewhere other than 1973 Britain, a place of sleazy, after dark decadence in a futuristic cityscape populated by scary, statuesque models out for a walk with their pet panthers. And then there was the incredibly sophisticated structure of the music. Naturally, at thirteen I was seriously out of my depth, songs like 'In Every Dream Home A Heartache', the epic, nursery rhyme nightmare 'The Bogus Man' and my favourite, the slightly sinister yet fabulous 'Beauty Queen', remaining impenetrable and incomprehensible for years after.
The relatively cheery opener 'Do The Strand' and 'Editions Of You' were far more immediate and likeable for a boy in thrall to the three minute glam vignettes of Bolan, Bowie and The Sweet. Not that Roxy Music were for everyone. Scared off by their own lack of understanding, and much preferring the simplicity of Rod Stewart and Elton John, none of my friends asked to borrow For Your Pleasure. Not that I minded. Deep down I knew that was a part of what made Roxy Music so special in the first place, their cult, outsider allure making them mine and mine alone.
SLY & THE FAMILY STONE / FRESH (June 1973)
KEY TRACKS: 'In Time', 'If You Want Me To Stay', 'Babies Making Babies', 'Que Sera Sera (Whatever Will Be Will Be)', 'Thankful n' Thoughtful'
Praise be to my old mate Gary because without him my love of black music would have been seriously delayed. A mild mannered, gangly, streak of piss in a long, faux leather coat, unlike the rest of us Gary lived in the terraced backstreets of central Reading and his specialist subject was all things soul and funk. To us Neanderthal, suburban rockers that meant the Chi-Lites or Stylistics hamming it up in their shiny, satin suits on Top Of The Pops, but to Gary it meant Stevie Wonder, Curtis Mayfield, The Isley Brothers, Kool & The Gang, Funkadelic and most of all Sly Stone's Fresh, which thankfully he was only too happy to lend me.
I can still recall the first time I heard it and the instant impact it made on me, not that I had a clue what I was listening to, not at first anyway. Everything about Fresh was so radically different to what I was used to, but I loved it all the same; from the phenomenal, supernatural sleeve of Sly flying through the air like some leather bedecked, alien insect to the mesmerising, all enveloping, heavy funk of tracks like the strutting 'In Time', the modest hit 'If You Want Me To Stay' and the mental as anything version of Doris Day's 'Que Sera Sera'. Impressively wide ranging, it was my first reminder that while I still had a lot of music to listen to, Sly Stone was about as cool as it would get.
Not surprisingly Fresh automatically became an essential part of my teenage, its influence quietly shaping my future listening and opening my ears up to all sorts of other stuff. Even today, you can see that influence on the cover and you can hear it in the grooves, slightly out of it but always on it stripped down funk that had something to do with rhythm made by a man who's despair and frustration ultimately turned him into just another drug fucked freak. All these years later, it's bizarre to think he's still on this earth!
THE VELVET UNDERGROUND / ANDY WARHOL'S VELVET UNDERGROUND FEATURING NICO (November 1971)
KEY TRACKS: 'Venus In Furs', 'White Light/White Heat', 'Pale Blue Eyes', 'All Tomorrow's Parties', 'Here She Comes Now'
In the spring of 1974 I came across two records that didn't seem to fit anywhere. Definable only by virtue of their opposition to the glam hand me downs, drab blues rock and virtuoso proggy of the period, unbeknown to me at a somewhat naive fourteen years of age, The Doors Weird Scenes Inside The Goldmine and 1969: The Velvet Underground Live would become familiar touchstones forevermore.
Discovered behind piles of discarded Rick Wakeman and Gilbert O'Sullivan albums in Sirrell's secondhand shop on the Oxford Road, Reading, the timeless poetry of Jim Morrison's lyrics on The Doors long deleted gem of a compilation made me want to write, whereas The Velvet Underground's gloriously shambling racket made me want to join a band, which is exactly what I did a couple of months later as a novice drummer. Featuring radically different live versions of Lou Reed's classic songs, it was the first I'd heard of The Velvets but it wouldn't be the last.
Suitably inspired to seek out and buy copies of their small yet perfectly formed catalogue, the badly typed, photocopied list of second hand, records specialists, Cob Records in Portmadog supplied me with what I thought was a dusty, dog eared copy of The Velvet Underground & Nico, until I discovered that by mistake I'd ordered the similarly titled 1971 double album compilation Andy Warhol's Velvet Underground featuring Nico instead. Highlighting The Velvet Underground & Nico, White Light/White Heat and The Velvet Underground, the seventeen songs worked their way through the entire spectrum of the Velvets experience, from the drug induced filth and angst of 'White Light/White Heat' and 'Heroin' to the whimsical, ethereal beauty of 'Pale Blue Eyes' and 'Sunday Morning'. For a Velvets novice like me it was perfect.
VARIOUS ARTISTS / THE FRONT LINE (August 1976)
KEY TRACKS: U Roy 'Natty Rebel', Mighty Diamonds 'Right Time', Johnny Clarke 'Declaration Of Rights', I-Roy 'Don't Touch I Man Locks', The Gladiators 'Know Yourself Mankind'
In my early teens I bought The Wailers Catch a Fire, the one with the flip top Zippo sleeve design which at thirteen years old was reason enough to buy any album. After that I went through a near decade long reggae phase, encouraged in part by the opening of Quicksilver Records on the first floor of Reading's Butts Centre in the autumn of 1975. Every week a delivery of singles would arrive on import direct from Jamaica and I'd buy as many as I could afford. That way I got to hear all manner of early roots 45's by big hitters like Ras Michael, Burning Spear, Dr Alimantado, Max Romeo, U Roy, I Roy, Prince Far I and Big Youth.
In the mid-seventies reggae wasn't set up to be particularly album orientated, most long players being no more than collections of singles in between some hastily recorded filler rather than cohesive works. Only a handful pretended to be anything else. It was left to the hallowed single to keep the flag flying, although playing a boxful of two minutes thirty seconds in succession could be a right pain in the arse compared to an album, each side of which would last for around twenty minutes. So when Virgin released their roots sampler The Front Line (named after the local slang for Railton Road, Brixton) I was always going to buy it, especially at the ludicrously cheap price of 69p, which in 1976 was the same cost as a single.
Bringing together some of the best tracks from such roots masters as The Mighty Diamonds, U Roy, Johnny Clarke, I Roy, The Gladiators and Keith Hudson it made for essential listening and was played everywhere, from the local fruit and veg stall to the opulent parties I used to frequent hosted by the rich, young socialites of leafy Berkshire. Still evocative of the pre Grundy show era when the great British public remained completely unaware of punks existence, blood and fire songs like 'Natty Rebel', 'Declaration Of Rights' and 'Know Yourself Mankind' became our de facto anthems if only because genre defining punk records like 'New Rose', 'Anarchy In The UK' and 'Blank Generation' had yet to be released.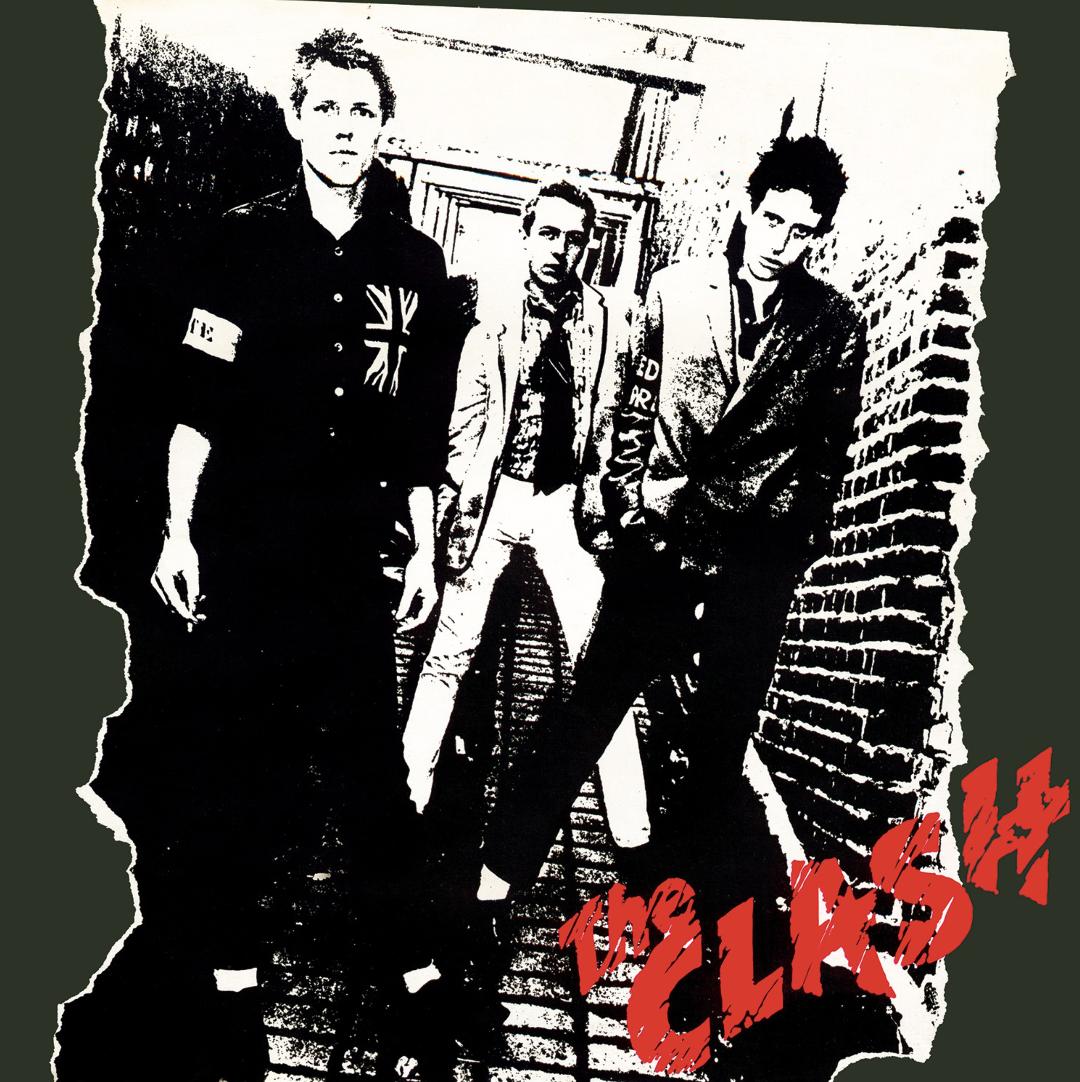 THE CLASH / THE CLASH (April 1977)
KEY TRACKS: 'Janie Jones', 'I'm So Bored With The USA', 'Garageland', 'London's Burning', 'What's My Name'
I should start by saying that The Clash is the most important record I ever bought. Not necessarily the best. In fact nowhere near the best. But definitely the most important, because no other record can take me back so instantly and so completely to the mad, amphetamine fuelled rush of living in a time when anything felt possible and I genuinely believed that if I couldn't change the world, at the very least I would change my world.
In the early days of punk I followed The Clash religiously, an incredible, once in a lifetime experience that culminated in the release of their self-titled debut; a manic, unstoppable force of pure energy that seemed to epitomise the hopes, fears and aspirations of an entire movement. Documenting a catalogue of youth issues based entirely around the idea of boredom, survival, and a single-minded refusal to compromise, what came across more than anything in short, sharp statements like 'Janie Jones', 'I'm So Bored With The USA', 'White Riot', 'Garageland' and 'London's Burning' was a snapshot of the endless grey days that made 1977 Britain sound like a police state, which of course it kind of was.
The sound of The Clash and the naïve ideals involved were incredible, and yet, just like The group themselves, as I grew older I found that for us mere mortals the high falutin' punk principles they lived by never did put food on the table, clothe the kids or fix the car. Indeed, for decades after I deliberately avoided anything remotely connected to punk for fear of reopening old wounds and memories of former ethical conflicts. In fact, it wasn't until the late noughties that I finally found the courage to lay those ghosts to rest when I reconnected with The Clash once again and realised what I'd been missing out on for all those years.
Revisiting their debut, what came across most powerfully was the extraordinary empathy the group had for the youth of the nation and their audacity in believing that we all might actually have a future. Ever since, many have tried to replicate their alchemy of hope and revolutionary impulse yet all have failed, The Clash's passion making every modern day bunch of so called rebel rockers look and sound as wretched as they so obviously are. Even now, as I approach the latter stages of my life, The Clash (the album) still makes me want to get my fat arse off the sofa, run out in the street and shout about the many injustices and wrong doings in this fucked up world of ours. The groups of today just make me want to check my pension plan!
WIRE / PINK FLAG (November 1977)
KEY TRACKS: 'Three Girl Rhumba', 'Ex Lion Tamer', 'Mr Suit', 'Strange', 'Fragile'
No matter how revolutionary The Clash sounded it was obvious that they were still a part of the rock'n'roll continuum, a fact that would become even clearer on their subsequent albums. Equally obviously, Wire were not. Upholding the theory that music made by intelligent, white, Englishmen didn't need to and probably shouldn't have any connection to the blues, from the outset they opened the door to a new type of rock intellectualism when that kind of thing was considered heresy.
The first group to emerge from punk who were noticeably swimming against the tide, Pink Flag still came as a surprise. An album of 21 songs squeezed into less than 36 minutes (six of them less than a minute long), I'd never heard anything remotely like it. Similar to a home demo of brilliant ideas on which there was no point bothering with three minutes when an astonishing thirty seconds would do, it was in turns wilfully experimental, surprisingly poppy and frenetic, the harsh, minimalistic ramalama of 'It's So Obvious' '12XU', and the furious 'Mr Suit' conforming to punks 'Here's three Chords' ethos with a wry smile and a knowing nod.
When Pink Flag came out in the winter of 1977, as far as I was concerned punk was already done for, sinking fast into a tried and tested formula of second wave copyists recycling the sound of the originators. I hated all that 'real' punk, lowest common denominator, working class nonsense. Sonically and artistically, the real revolution and punk's future, if indeed it had one, depended less on Sham 69 and the UK Subs and more on those daring to be different. In that respect Pink Flag and genuinely hummable songs like 'Three Girl Rhumba', 'Ex Lion Tamer', 'Fragile' and 'Strange' provided a deft balance between the brutal and the beautiful and the building blocks for a brand new way of playing and understanding.
CAN / CANNIBALISM (October 1978)
KEY TRACKS: 'Mother Sky', 'Mushroom', 'Halleluwah', 'One More Night', 'Yoo Doo Right'
Listening to them now, the albums of 1978 don't sound anywhere near as good or mean as much as they once did. Even back then I wasn't particular convinced that records like Buzzcocks Another Music In A Different Kitchen, Ultravox's System Of Romance, Alternative TV's The Image Has Cracked, Wire's Chairs Missing or Magazine's Real Life would stand the test of time, partly because I can clearly remember desperately scanning the music papers week after week for news of something more, something better. And I'm fairly sure it was at that point when Can entered my thinking.
Lauded by such luminaries as John Lydon, Pete Shelley and Mark E. Smith as a major influence, initially I dismissed them out of hand being far more interested in the punk influenced present than the pre punk past. Besides, it wasn't as if I could just pop out and buy their albums anywhere. In 1978, reissues of old records were practically unheard of, the early seventies already forgotten, a cult group like Can even more so. In truth, all I knew of them was their minor chart hit 'I Want More', a delicious slice of dance electronica that proved irresistible, even when I discovered by chance that it had been written by Pink Floyd's Dave Gilmour in a cynical attempt to bag the group a hit for Virgin, their new label bosses.
Thankfully Cannibalism fixed all that and made it clear that Can were a lot more than mere patsies for their record companies chart ambitions. A relatively cheap, double album compilation of the group's greatest moments from 1969 to 1974, I grabbed the opportunity to catch up. Not letting the fact that they were a bunch of bearded hippies from Cologne put me off, or that their ridiculously ahead-of-their-time tracks were fashioned from lengthy, improvised 'jam' sessions as opposed to traditional song writing methods, in 1978 their intellectually driven, avant-garde, funk pulse highlighted yet another place for new music to travel to without anyone having to work too hard to 'get it'. After all, as someone far more seriously afflicted by pogonophobia than I am once said; "Can! If they'd had a shave they would have been massive".
THROBBING GRISTLE / D.O.A. THE THIRD AND FINAL REPORT (December 1978)
KEY TRACKS: 'Hamburger Lady', 'AB/7A', 'Valley OF The Shadow Of The Death', 'Hometime', 'Dead On Arrival'
By the summer of 1979 I'd finally given up on 'having a go' in noisy punk outfits and found myself going weird fast listening almost exclusively to cassettes of Karl Blake and This Heat, Cabaret Voltaire's Extended Play EP, Alternative TV's Vibing Up The Senile Man and most of all to Throbbing Gristle's D.O.A. The Third and Final Report. A most bewildering listening experience, while in parts it was abrasive, confusing, creepy and occasionally downright boring, as a resolute non musician who still wished to make a noise, more than anything I found it liberating.
Whether it was Throbbing Gristles intention or not, as I ploughed through the blips, bleeps and cacophonous symphonies of 'I.B.M.', 'Hit By a Rock', 'Dead on Arrival', Sleazy Christopherson's 'Valley of the Shadow of Death', slimy toad Genesis P Orridge's 'Weeping', 'Cosey Fanni Tutti's 'Hometime' and Throbbing Gristle's most depraved moment 'Hamburger Lady', I began to have a real sense of "I could do that". So I did. Suitably inspired and informed, I set to work recording my own primitive soundscapes and rudimentary scrapings on a cheap, catalogue synth, a few of which found their way onto a couple of Trench Musik Kore cassette compilations in the early eighties.
It's strange really because I didn't even like Throbbing Gristle that much, and was certainly not what you'd call an avid follower. In the many years since 1979 I doubt that I've played D.O.A. more than a couple of times, and if I have it's only been to reacquaint myself with the gorgeous, krautrock melody of Chris Carter's 'AB/7A'. And yet, despite being the furthest thing from normal I've heard in my entire life, it remains an incredibly important album to me.
THE FALL / LIVE AT THE WITCH TRIALS (March 1979)
KEY TRACKS: 'Frightened', 'Crap Rap 2/Like To Blow', 'No Xmas For John Quays', 'Mother-Sister!', 'Industrial Estate'
During the final year of the seventies, I'd often sit in the dark in my bedsit listening religiously to John Peel, ten 'til midnight, Monday to Thursday, my finger poised over the pause button of my portable cassette recorder ready to record anything new. As renowned Peel favourites, The Fall would always feature heavily. Try as I might, I just couldn't escape them. It was as if Mark E. Smith himself was hunting me down for being the soft, southern wanker he undoubtedly would have thought I was.
Of course, he would go on to have a fulltime career as the undisputed leader of The Fall, releasing 31 studio albums, 60 live albums and 55 compilations before his death, a minefield for even the most avid fan. For what it's worth I've listened to most of them, even the stuff recorded live on a portable cassette recorder from inside a toilet cubicle, but sticking to the old adage that most people's favourite Fall album is the first one they hear, Live At The Witch Trials is mine. Recorded and mixed over what must have been a manic two days in December 1978, The Fall were a different proposition back then, being far more of a democracy with original guitarist Martin Bramah handling the musical arrangements.
Essentially the twenty two year old Mark E's poems set to music, the eleven tracks sounded surprisingly clean in comparison to the many Fall records that followed, although even that failed to lessen the intensity of the curmudgeonly Mancunian's attitude, energy and bristling indignation. The work of a man arrogant enough to believe that he knew best, songs like 'Frightened', 'No Xmas For John Quays', 'Rebellious Jukebox' and the inimitable 'Industrial Estate' were the first recorded evidence of Mark E. Smith as an island of individuality in a sea of conformity. And what evidence it was.
Doomed to roam the streets of Prestwich hoovering up drugs and quaffing pints in grim, spit'n'sawdust pubs before returning home to pick over his pile of books and his cool collection of psychedelic, northern soul, rockabilly and art rock records, The Fall may have become his life but you would never have guessed it on hearing their brilliantly ramshackle and shouty debut album. But as the earliest example of Mark E. Smith's genius, its nigh on unbeatable.
THE SLITS / CUT (September 1979)
KEY TRACKS: 'Newtown', 'Instant Hit', 'Ping Pong Affair', 'Love Und Romance', 'Typical Girls'
One of my biggest regrets is that I never got to see The Fall live. Maybe it was the North/South thing, my lack of effort, who knows. But I did get to see The Slits. In the frantic, mental, maelstrom of punk, I got to see them more times than I can remember, not only at The Roxy and The Vortex but in towns like Swindon, Bristol and Bournemouth too. Most of the time they were supporting someone, whether it was The Clash, The Buzzcocks, Siouxsie & The Banshees or whoever, but what I remember the most about them is how inept they were. With Palmolive still in the drum seat, they were truly woeful musically, their chaotic clatter driving away most casual punters. Yet visually it was impossible to take your eyes off them.
When I heard Palmolive had gone I was sceptical. When I discovered they had signed to Island I prayed they would never make an album for fear of it being unlistenable. Then, when I finally heard Cut, I couldn't quite believe it. Challenging convention as only The Slits could, this once proudly all female group recruited master drummer Peter 'Budgie' Clark and technically accomplished reggae producer Dennis Bovell to add some much needed structure to their own inspired amateurism, and set about creating what I believe to be the greatest album there is or is ever likely to be.
Rejecting the familiar, comforting simplicity of traditional song structures, Arianne 'Ari Up' Foster, Tessa Pollitt and Viv Albertine chose to do whatever they wanted. Picking up themes before discarding them on a whim, chucking in a beautiful harmony, a chicken scratch guitar or a piano part when they threatened to become too self-indulgent, countless sonic surprises lay in store while seventeen year old Ari Up's half sung, half spoken vocals let you know in no uncertain terms that here was a woman who was not going to take shit from anyone.
Built bit by brilliant bit on a fascinatingly experimental array of parts, the songs on Cut concentrated on all the familiar enemies and traps of the post punk world; marriage, sexism, heroin, consumerism, TV, radio and suburbia. However, more than those familiar, old tropes, the record was about The Slits steadfast refusal to believe in such a world, their self-imposed freedom from reality allowing them to imagine a future of infinite possibility at exactly the same moment as the hammer of our newly elected Führer Thatcher and her Tory Reich came crashing down to fuck up our lives even more.
A fair proportion of the albums here are rightly revered, yet others, and Cut in particular, continue to exist under the radar, their legacy just as important even though their public persona may be non-existent. It seems terribly unfair now but what little attention The Slits did receive was rapidly usurped by the next new model, which in the winter of 1979 just happened to be the old fashioned, hopelessly romantic and idealistic London's Calling. Up against that Cut didn't stand a chance, but unlike The Clash's restyling of the past, it still possesses the necessary energy, belief and otherness to lift my heart and spirit every time I play it. And not many albums can do that.
PUBLIC IMAGE LTD / METAL BOX (November 1979)
KEY TRACKS: 'Careering', 'Memories', 'Swan Lake', 'Bad Baby', 'Poptones'
I wasn't a particularly happy teenager but punk changed me. It got me to question everything and gave me some sense of why I was so disillusioned with life and my place in it. There would be consequences to pay for that, but in 1979 I was nineteen years old living in a basement bedsit of a damp, decrepit, four storey, Victorian house getting by on cornflakes, black coffee and too many roll ups. I'd come a long way since the miming in the bedroom days of 1971, but I still had very little cash to spare. If I wanted to buy a new album the only way I could raise funds was by selling off my old records to my friendly second hand dealer, which is how I came to buy Metal Box in its original format of three, big grooved 12"45's packed rather tightly into a metal canister.
It was this revolutionary package that marked the album (if that's what it is) both aesthetically and sonically as the most important of the post punk era. Determined to hasten the death of Trad rock customs and traditions, John Lydon, Keith Levene and Jah Wobble gifted us twelve tracks of sublime aural adventure. By exorcising their punk roots and delving into the cavernous chambers of dub, the more out there electronica of Bowie's Berlin years and the scintillating guitar sound being pioneered by Levene, they created something wholly original, while underneath it all Wobble's sinuously winding, unconventional basslines pushed the music into the darker recesses of the still-only-23-year-old Lydon's troubled psyche.
Spacious, skeletal and terrifying for the uninitiated, Metal Box danced on the graves of Elvis, Dylan, The Beatles, The Stones and all else sacred to 'Rock's Rich Tapestry', reassembling a melee of dub, disco, krautrock and the avant-garde into a fabulous noise that defied description. And yet, if you were prepared to put the effort in there were still some subtle earworms to be had on the surprisingly danceable 'Careering' and 'Memories', 'Swan Lake's blurring of Tchaikovsky with Lydon's memory of his mother's agonisingly slow death, 'Bad Baby's uncanny resemblance to a discarded show tune from Oliver! and 'Poptones' juxtaposition of manufactured happiness and absolute horror set to a surprisingly pretty backing track. Deeply unpleasant in places, listening to all three discs in their entirety was no easy task, but as my initial confusion subsided, and as youthful as I was, I understood immediately that Metal Box was a game changer, and with my twentieth birthday mere weeks away, a truly fitting epitaph for my teenage!